An excellent read: On Trails: An Exploration, by Robert Moor.
The cover caught my eye as I was browsing at the library and I was taken with the Boston Globe's blurb: "Part natural history, part scientific inquiry, but most of all, a deeply thoughtful human meditation on how we walk through life, Moor's book is enchanting."
I have long been interested in wilderness writing, and in the changing concept of wilderness itself. This book investigates the trails we've made through that wilderness, the reasons for trails, and the nature of trails made by animals as well as humans.
Philosophical paths and trails of conversation and thought make up much of the book; through them, Moor shows that paths make us as much as we make them.
He tells us about the designer of the Appalachian Trail, Benton MacKaye, who realized that "the key to solving societal problems [is] to change systems, not human nature. As MacKaye became an increasingly prominent voice in the conservation movement, he seldom wrote about greed or excess. He chose instead to focus on environments–how they can weaken us, or how they can be altered to strengthen us" (231).
The closing section, on wisdom, is worth spending some time with.  Moore writes, "It is no coincidence that many of the transcultural markers of human wisdom (patience, equanimity, foresight, compassion, impulse control, an ability to reside in uncertainty) are exactly those qualities which children notably lack. Wisdom is a rarified form of intelligence born of experience, the result of carefully testing your beliefs against reality. You make an attempt at solving a problem, and sometimes you stumble upon success; other times you make mistakes, and then you correct them. Over time you learn, you adapt, you grow. In other words, wisdom is a form of judgment that evolves."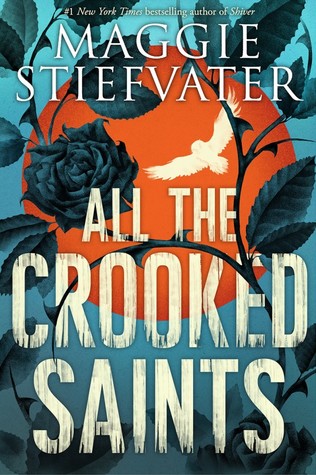 I followed Moor's book with Maggie Stiefvater's All the Crooked Saints, recommended by a student, and found it an absolutely delightful read. It's the first YA magical realism novel I've ever picked up, and I found it complex, lyrical, and thought-provoking.